Books
Click on book covers to purchase directly from Amazon.com.   All titles Available on Kindle!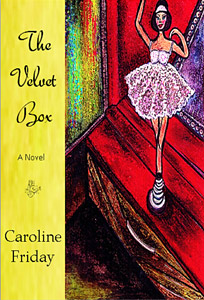 The Velvet Box (Drama)
To Kill a Mockingbird meets The Secret Life of Bees in this historical southern drama that combines the horrors of abuse with humor, faith, and forgiveness.
Nellie Cox longs to be free from the torment of her abusive uncle. But in 1920s North Carolina where the sin of incest is hidden in shame, she has nowhere to go and no one to help her, other than her own resourcefulness. When her mama returns home from years spent in a mental hospital, Nellie hatches a plan to marry her off to the handsome Dr. Walker, hoping to be whisked away to a new life in Raleigh. But as each plan fails, Nellie loses hope, finally learning to rely on a power greater than anything she has known.
Combining humor, revenge, romance, and spiritual truths, Nellie's story encompasses the beauty of an innocent child with the violence of a horrific sin. But as she soon learns, the love and forgiveness of a wonderful and all-powerful God far outweighs the evils of man.
What readers are saying about The Velvet Box:
"The story of a precocious 11-year-old girl living in the South, who's a victim of physical and sexual abuse. The writing style is excellent, filled with wonderful similes such as: "The barrel pointed in my direction, its two holes peering at me like the eyes of a rattler." The story is told in first person, and is entertaining and deeply disturbing at the same time. A powerful book about family ties, love and forgiveness."  – EH, Atlanta, GA
"The Velvet Box is a powerful story well told.  The book has engaging characters, each dealing with life's challenges the best way they know how. As a man, it shed light on some of the issues of child sexual abuse and why it is so difficult for children to escape it clutches. The book is funny, uplifting and ultimately hopeful." – WH, Atlanta, GA
———————————————————————————————————————————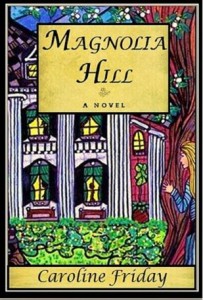 Magnolia Hill (Drama) – a novel (based on the screenplay of the same name)
In this sweeping, romantic tale, a beautiful farm girl in 1920's North Carolina discovers the power of true love.
Enter the world of Cadie Hamilton, where the beauty of the South with its rich green fields, floral landscapes, craggy oak trees, and grand antebellum houses, tempts her to believe her love for Boy, a wealthy plantation owner, is the answer to life's problems.
But when he disappears without a word, she is heartbroken and is forced to marry a common grocer's son, Norman McLain, succumbing to a life of tragedy and despair.  Her only hope is a new-found faith in the Lord that enables her to eventually love her husband in spite of his imperfections.  But will that faith endure when Boy returns home to reclaim what was stolen from them years ago?
What readers are saying about Magnolia Hill:
"I just finished Magnolia Hill yesterday and really loved it! The style and voice throughout the book is wonderful and you've got some really good similes. I especially liked the ending where the bridge breaks, I liked that it's symbolic and it was very believable that Cadie had been transformed. What I liked most about the story was all the racial undertones and the friendship between Cadie and Zena, the Christian elements and the preacher. That felt very authentic and made the story come alive. The story of the prince and princess was excellent. I also love all of the food descriptions, like the hotcakes with honey and melted butter and roasted pecans on top. I especially liked the description of the house and the sloping porch about to pull away from the foundation. I could really visualize that. Looking forward to seeing the success of this book!"  – A Willis
"Was hooked after the first chapter!"  – T Henry
"Caroline, I couldn't put it down. I actually printed off the last 100 or so pages so I could sit outside on this fall-like day and truly enjoy it. I don't know the last time I've enjoyed a book so much – honestly. The beauty of your surroundings – I'm very much a place person and love to feel like I'm there and you did that. The woods, Zena and Mattie's home and then Cadie's home, the scene in the river was very well done. I could feel the water. The scene's at the Goodwin's house just caused goosebumps and the Reverend's story of the Prince and the Princess – oh my goodness! just beautiful and I could see him on the porch telling it.
This is the best unpublished thing I've ever read and I know it will be published soon. I love so many little things – that I can't even remember them all. I was way too much into enjoying the story and desperate to know what happens next. I couldn't decide who to root for and felt the depth of every character – even Molly. I love the store and the new bakery shelf. I want a piece of that blueberry pie! I cried several times – baby Zoe and the burial.  Oh my.  And then with Zena standing up to Norman. and of course the end.
I can't wait to see this in print; you have put together a story that makes the gospel so attractive and wonderful. You're writing is touched by God – bless you for staying at it long enough to get it all down. Thank you for letting me read it."  – K Shostak
———————————————————————————————————————————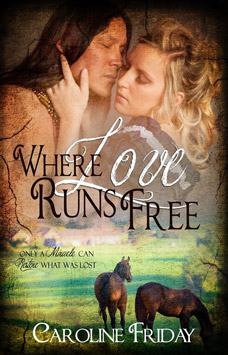 Where Love Runs Free (Drama)
A feisty, southern belle's dream becomes a reality when her long-lost love returns to Laurel Grove, SC to work as a horse trainer on her family's farm.  But has he really returned to reclaim her affections or is he more interested in settling a score with her evil fiancé?
In the year 1890, Angelina Raeford breaks off her engagement with the wealthiest man in the county to pursue a relationship with Ben Eagle-Smith, a wild, half-breed Cherokee, who she has loved since her youth.  But when her jilted fiancé retaliates by challenging Ben to an impossible wager, Angelina risks losing Ben forever. Only the power of their love and a miracle from God can restore what was lost and protect the bond that has united their souls since childhood.
What readers are saying about Where Love Runs Free:
"I have just finished reading your book "Where Love Runs Free". It is wonderful!!!!!!! I couldn't put it down for the last 10 chapters. The story was great and it had an awesome ending! I look forward to seeing it published and a best seller!!" – T Lane
"Caroline, this story is amazing! Find me a boy like Ben! Goodness, finding a horse savvy man is difficult, let alone one who Fears the Lord as Ben does. I started this book last night around 8, and finished around 2am. I was sucked into it–and couldn't put it down!" – C Henry
"This book has the breathless, ultraromantic feel of Gone with the Wind. The setting itself is romantic–a horse farm in South Carolina. And Angelina, the heroine, is as feisty and headstrong as Scarlett O'Hara. Friday has a nice, easy pacing in her storytelling, using exposition and dialogue and action and description with equal ease, and introducing various characters quickly and vividly. I enjoyed the immediate romantic tension that the author sets up and wanted to read more." 
– DM, C House Publishers
———————————————————————————————————————————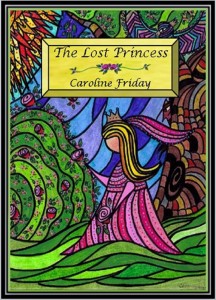 The Lost Princess
Did you know you are one of God's precious princesses?  If you are a believer in Jesus Christ as your Lord and Savior, then you are considered a king and priest in God's heavenly kingdom—not when you die, but now—today!
Open the pages of this allegorical story and find out the truth about your wonderful destiny that Satan has kept hidden since the cross at Calvary.
———————————————————————————————————————————
God Wants You Healed!
Healing is Yours!
Did you know the Bible says that when Jesus went to the cross, He took upon Himself not only the sins of the world, but every sickness and every disease known and unknown to mankind?  It is one of God's most wonderful blessings given to His children, yet religion and denominationalism have kept it hidden for years.  But no more!
Open the pages of this book and find out the truth—that God Wants You Healed!
———————————————————————————————————————————
God Wants You Powerful!  
The Power of God is Yours!
Did you know the Bible says that all Christians have been given the full authority of Jesus Christ to walk in the same supernatural power of the Holy Spirit that He walked in while He was here on earth?  It is one of God's most wonderful blessings given to His children, yet religion and denominationalism have kept it hidden for years.  But no more!
Open the pages of this book and find out the truth—that God Wants You Powerful!