Kairos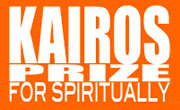 <  Return to Press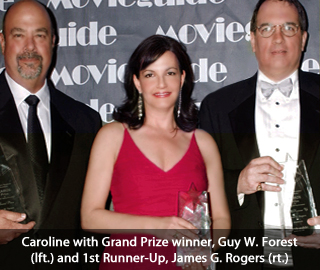 Three Talented New Screenwriters Have Shared the $50,000 Kairos Prizes for 'Spiritually Uplifting Screenplays by Beginning Screenwriters' – Now They Have Agreed To Talk about Their Lives and Why They Wrote Their Prize Winning Scripts
By Dan Wooding
BEVERLY HILLS, CA (ANS) — It was a night that three new screenwriters will never forget, when they were honored recently for their craft in the presentation of the $50,000 Kairos Prizes for Spiritually Uplifting Screenplays (sponsored by the John Templeton Foundation) at the Annual Movieguide® Faith and Values Awards Gala in Beverly Hills, Calif., attended by more than 200 top studio executives and celebrities.
The grand prize of $25,000 went to Guy Forest of San Pedro, Calif., for his screenplay "If By Chance".  The script tells the story of a successful African-American professor and pastor who returns to his ghetto neighborhood to reopen the old, abandoned church and revive the community.  "Stairways", by James Rogers of St. Davids, Penn., was awarded $15,000 as first runner-up, and "Angels on Earth", by Caroline Friday of Marietta, Ga., won the $10,000 prize for second runner-up. "Stairways" tells the heart-rending story of a young boy who finds that only faith can help him live with the loss of his parents in the World Trade Center collapse.  "Angels on Earth" has one of the least likely transients deliver a religious widow from hardheartedness.
Each of the winning scripts had a common theme of an uplifting or encouraging message for its audience.  Each was based on faith and values, and helped the audience know God and love and understand God better.  Now they share the additional benefit of being read by the top major studio executives in Hollywood – what many of the competitors' value as the real prize in the contest.
Dr. Ted Baehr, publisher and founder of Movieguide®, announced the winners at the glittering gala.  Commenting that these were three of the best scripts that have ever been submitted in the competition, he said he has high hopes for their future development into great movies.
"Every year, I am blessed by the amount of undiscovered talent we see in these submissions", Baehr said.  "I am encouraged that this competition is bringing more faith and values to Hollywood."
Caroline Friday of Marietta, Ga. won the $10,000 prize for second runner-up for "Angels On Earth".  She told me about her background.
"I am a former corporate attorney having practiced law in Chicago for five years before moving to London where I stayed home with our three children for four and a half years before moving to Marietta, Ga. in 2000", she said. "I began writing in 1998 at Birbeck College at the University of London, where I took screenwriting classes and was in a writer's group through 2000 and then continued my screenwriting education in Atlanta at IMAGE Film and Video."
"Otherwise, I am self taught through numerous books, scripts, movies, and seminars.  I graduated with a BS from the University of North Carolina at Chapel Hill and a JD/MBA from Wake Forest University.  I have a husband, Bill, and three children, Anna 13, Braxton 12, and Rachel 10."
Caroline gave a brief outline of the storyline of her script.
"A small-town southern matriarch receives supernatural healing powers from a divine homeless man, yet is unable to heal the one person she loves the most – her dying daughter."
She went on to say, "This was the first script I wrote shortly after becoming a Christian.  The seed of the story began with the idea of what a mother would do if something tragic happened to her child.  Would it affect her spiritually?  Would it affect her walk with God and essentially bring her closer to Him?  The remainder of the story was given by divine inspiration – there are no other words to describe it. "My first script as a nonbeliever took over a year of intense labor, but this one was effortless in that it took me all of two months, with of course, seven years of tweaking!  I think the main character is really about me in a way – she goes from being a hardhearted legalist full of religion (and arguably unsaved) to someone who totally surrenders to God, and thus comes to a true faith and understanding of Him."
When asked what the main spiritual uplifting theme of the story was, Caroline said, "Christianity is not about traditions, legalities, religion, or good works, but about total surrender to Him and His will for your life."
She concluded by saying, "I love what Movieguide® is doing and all that they stand for.  I support them in all of their efforts and am so thankful for this award and all the blessings it has brought to my life."
Note: Kairos is an ancient Greek word meaning the "right or opportune moment". The ancient Greeks had two words for time, chronos and kairos.  While the former refers to chronological or sequential time, the latter signifies "a time in between", a moment of undetermined period of time in which "something" special happens.  What the special something is depends on who is using the word.  While chronos is quantitative, kairos has a qualitative nature.  In the New Testament, kairos means "the opportune time appointed by God."