Marietta Daily Journal

<  Return to Press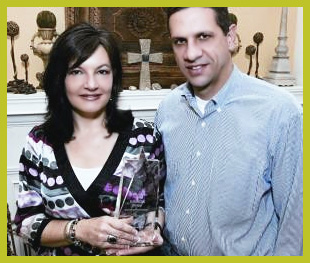 Caroline of East Cobb,  left, poses with husband, Bill.
Friday is a Christian screenwriter who was awarded 2nd runner up for the Kairos Prize for Spiritually Uplifting Screenplays.  Thinh D. Nguyen
Published:  2/23/2008
By Amanda Crissup – Marietta Daily Journal Staff Writer
MARIETTA – East Cobb screenwriter Caroline Friday recently received the full Hollywood treatment at the third annual Kairos Prize for Spiritually Uplifting Screenplays held at the Beverly Hilton Hotel in Beverly Hills, Calif.
Two dozen roses waiting in her hotel room, a personal stylist before the awards ceremony and a stroll down the red carpet where she received a second runner up and a $10,000 cash prize for her screenplay "Angels on Earth."  More so than the accolades, however, Mrs. Friday said the key component is the exposure as an up and coming screenwriter.
"It's just a great way to be introduced.  I considered it a debut into the industry," Mrs. Friday said.
Sponsored by the John Templeton Foundation, which produces the MOVIE GUIDE, Mrs. Friday likened the awards ceremony to a Christian version of the Oscars.  The value is placed not on the religious themes of the scripts, but on its overall positive and inspirational message.
A graduate of Wake Forest University with her juris doctor in law, Mrs. Friday worked as tax and securities lawyer until she chose to stay at home full time to raise her three children.  At the time the family was living in London where Mrs. Friday said she began taking writing classes at the University of London as a hobby.
"I've always had a passion for film," she said. "I had this creative side to me that wasn't being released."
She wrote "Angels on Earth" in 2001, but put it aside thinking that no one would be interested in her work.  However, the "Passion of the Christ" changed the movie landscape in 2004, and paved the way for Christian movies as a genre.
"The industry is out to make money and what we're trying to prove to them is you can make money with the family friendly films," Mrs. Friday said.  "I just got this revelation that God was raising me up and raising others up to glorify God and a biblical morality."
"Angels on Earth" is about a hardhearted Southern matriarch who is given the gift of healing yet cannot heal her comatose daughter. Another of Mrs. Friday's scripts, a Western romance called "The Columbine Trail," has been optioned by Starz Media and is slated to be shown on the Hallmark Channel.
Along with her husband, Bill, Mrs. Friday is co-founder of film financing company Sixth Day Media.  A native of Jacksonville, N.C., Mrs. Friday and her family have called Cobb home since 2000.
acrissup@mdjonline.com