The Christian Index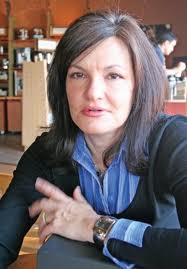 Script Mirrors Life, Wins Award for Georgia Baptist
By Margaret McCommon Dempsey, Special to The Index – Published August 28, 2008
Interest in writing eventually became a calling for Caroline Friday, a member of Johnson Ferry Baptist Church in Marietta.  Today she and her husband, Bill, are co-founders of the Christian-based Sixth Day Media.
MARIETTA – The script of her life embodied the American dream.  She was a successful attorney; her husband, a successful banker.  They had three healthy children and, seemingly, not a care in the world.
When the family relocated to London for a temporary work assignment for her husband, Caroline Friday took a leave of absence from her career.  Then and there, her spiritual journey began.
Having been a church-goer her entire life, the 30-something wife and mother finally gave her life to the Lord, she recalled.  Friday said that she knew about God from her religious upbringing but did not understand that she could know Him in a personal relationship until she took a 16-week Bible study at an Anglican church in London.
I was like a sponge, she said, I couldn't wait to go to Bible study.
The couple eventually returned to Atlanta and began attending an Episcopalian church while she simultaneously attended a Bible study at Johnson Ferry Baptist Church.  She and her husband decided a Bible-based church, where the Word was preached, was where they were more comfortable.  They soon made professions of faith and were baptized at the Marietta church.
While still living in England, Caroline was taking writing classes at the University of London.  Writing had always been an interest; it soon became her calling.
The Only Requirement
Today, on this side of the Atlantic, the script of her life has had a major re-write as a result of that conversion.  Friday and her husband, Bill, now living in Marietta, eventually gave up their professional careers, hers in writing and his in the banking industry, to pursue a spiritual calling to America's film industry.
The film industry is a mission field, she said, and I am called into it.  The only requirement is that I give up all worldly possessions and rely totally on God.
The couple founded Sixth Day Media, a film production and finance company dedicated to producing family-valued, morally centered, and spiritually inspired films.  A passion for their company is fueled by recent studies indicating movies with strong Judeo-Christian themes and positive moral messages earn more than movies without such content.
Caroline leaves much of the daily managing of the company to her husband while she focuses on writing screenplays. The couple's career change decision has brought years of long explanations to family and friends, laborious work with little reward, and disciplined commitment to walk by faith, not by sight, she explained.
Still, despite the hardships, she has never been tempted to give up.  Giving up would have been like the Israelites going back to Egypt, she believes.  We were willing to sacrifice everything.  We knew that God was going to bless us so that we would have influence in what all of us see in local theaters.
In February her calling and commitment were affirmed.  A phone call confirmed that she had won third place in the annual Kairos Prize for spiritually uplifting screenplays.  The award, sponsored by the John Templeton Foundation, was established in 2005 to encourage individuals and companies to produce entertainment with positive messages about faith and values.
Her award-winning screenplay, Angels on Earth, tells the story of a religious, yet legalistic, widow whose daughter lay in a coma from injuries sustained in an automobile accident.  A transient man became the unlikely hero in the story to bring this Southern woman to a true faith.
The screenplay, which was first written in 2001, had been tweaked in the following years.  Friday admits that the spiritual struggle of the Southern matriarch in her screenplay mirrors much of what she was going through during her spiritual awakening in London.
The award was such a validation for me, she said.  It was a reminder that God has blessed my efforts.
With the award came a check for $10,000 and, more importantly, a trip to Hollywood to meet producers and others working in the film industry as well as commitments that top major studio executives will read the script.  The awards gala, complete with a red carpet and about 200 top studio executives and celebrities, was sponsored by Movieguide: A Biblical Guide to Movies and Entertainment.
In the midst of the glitz and glamour of the awards ceremony, I felt like God was debuting me, she smiled.
During the past seven years of living out her call to the mission field of the film industry, Caroline has noticed subtle, yet significant change.  God is changing the hearts and minds of people in Hollywood, she explained.  He is changing the landscape.  Actors and production people are believers.  Many have the heart to present the truth to the industry.
Now with 11 screenplays to her name, she continues to write, with the crystal Kairos award close at hand for encouragement.  I know one day I will have a wonderful testimony of how God has used me, she said.